The college marks the entry of students into secondary education. It is organized into four levels from sixth to third grade and structured into teaching cycles. All middle school students have 26 hours per week of compulsory lessons, to which may be added optional lessons and specific lessons in Spanish language and history in accordance with the program of the Spanish Ministry of Education.
College education cycles
College education begins with the last year of cycle 3, the consolidation cycle. This cycle therefore straddles elementary school and middle school. Its implementation requires enhanced consultation between the college and the elementary school, in particular within the framework of the school-college council.
Cycle 4, the advanced cycle, includes the 5th, 4th and 3rd classes. During this cycle, students develop their knowledge and skills in the various disciplines while preparing for the continuation of their training and their future active participation in the evolution of society.
College goals
The purpose of the structural organization is toimprove learning of all college students and to enable the School to better carry out its mission of transmission and integration of the values of the Republic.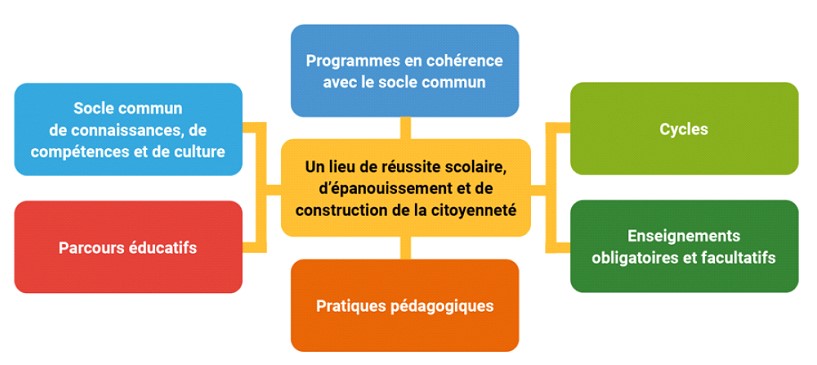 The college is a place of academic success, fulfillment and construction of citizenship.
The success of these objectives is based on the common base of knowledge, skills and culture, educational pathways, programs consistent with the common base, teaching practices, cycles and compulsory and optional courses.
Mastery of the common base of knowledge, skills and culture
Teaching programs
Additional lessons
College hours
Student support
Educational pathways
Mastery of the common base of knowledge, skills and culture
Mastering the common base of knowledge, skills and culture to a satisfactory level guarantees the achievements necessary for continuing education. This level is not restrictive, each student can aim for a very good mastery.
A report is established at least at the end of each cycle, based on the evaluation of knowledge and skills, a skill being the ability to mobilize one's resources (knowledge, abilities, attitudes) to accomplish a task or face a complex or unprecedented situation. Developing one's skills thus goes further than acquiring knowledge, while building on the latter.
Mastery of the common core of knowledge, skills and culture is assessed at the end of cycle 4 in five areas of training broken down into 8 components:
⦁ Languages for thinking and communicating (4 components)
⦁ Methods and tools for learning
⦁ The formation of the person and the citizen
⦁ Natural systems and technical systems
⦁ Representations of the world and of human activity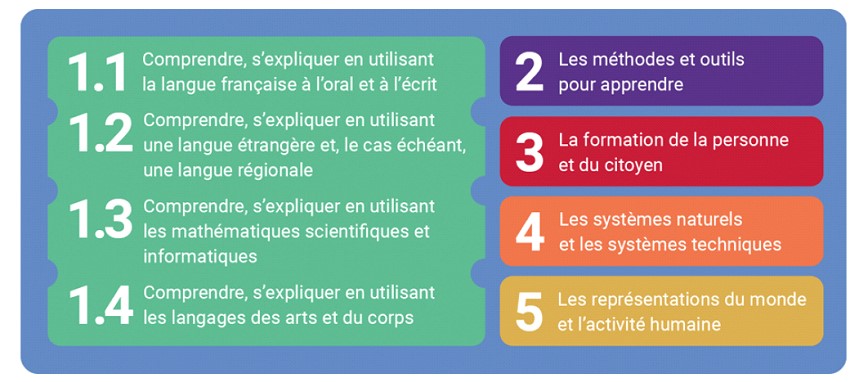 Teaching programs
Additional lessons
College hours
Student support
Educational pathways