Our school project aims to lead each of our students to their own excellence. To this end, we have developed 4 areas of work: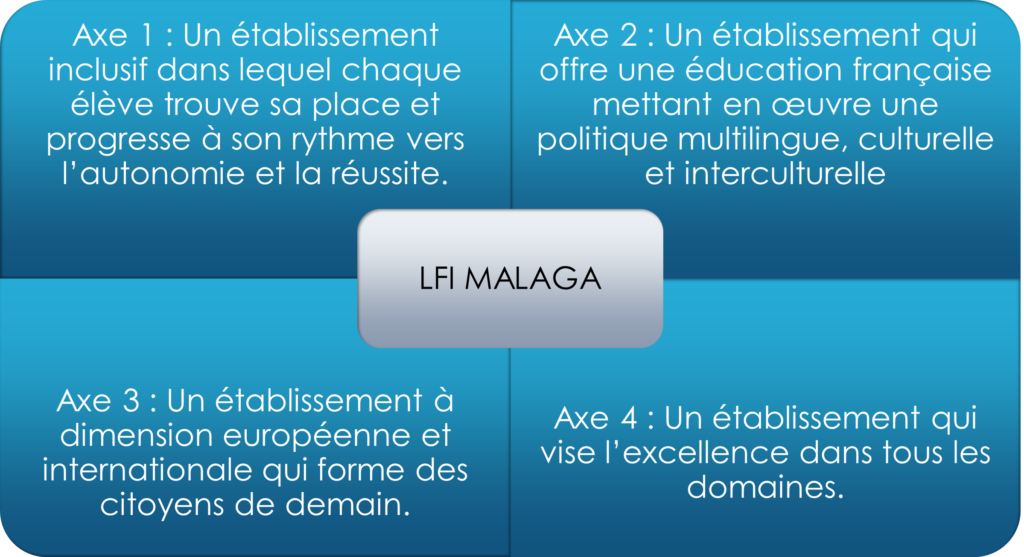 SOME GOOD REASONS TO CHOOSE OUR ESTABLISHMENT...
Double diploma: Baccalaureate and "Título de Bachiller"

At the end of his schooling, the student leaves the establishment with a French and Spanish diploma.

Plurilingual education

A fully bilingual education from the age of 3 (French and Spanish) with learning English from the age of 3 and learning German offered in 5th (12 years).

Certificates

Establishment authorized as a Cambridge ESOL examination centre.
Possible certifications in all the languages taught at the Lycée

A unique school network in the world

552 establishments approved by the French Ministry of National Education in 13 countries.
A network that ensures the continuity of the student's education.

A humanistic education aiming for excellence

An innovative and ambitious educational project that allows our students from an early age to develop their analytical and critical thinking (understand what we do, what we learn and why we do it). A personalized course bringing students to the maximum of their potential by developing autonomy, adaptation and responsibility of students.

A secure future

Schooling from 3 to 18 years old in the same place with follow-up and personalized support, a score of 100% for success in the baccalaureate and successful orientation in higher education in France, Spain and around the world (100% for access to first orientation wish).

Extracurricular activities and school trips

Many sports activities, extracurricular activities in different languages, many educational, sporting and cultural outings as part of class learning and travel.

An exceptional setting

A school located in a wooded park of 3 hectares. Premises adapted to the age of the children and modern technologies for learning services (scientific laboratories, interactive digital boards, computers, tablets).
No to harassment!
Harassment: to act, you have to talk about it…